There are so many beauty boxes! How to you determine the ones that are worth trying? When you are searching for a beauty box it is important to take into consideration several factors:
Will this box offer me the type of products I want to try? Boxes may contain skin care, hair care, hair styling, makeup, makeup brushes and tools, nail care, home products and fashion products.
Am I okay with the sizes of the products I will receive? Some boxes contain only samples, while others offer full size products.
Will I have the chance to try new products often? Not all beauty boxes are the same, some offer monthly, every other month, quarterly and other subscription options.
Is it worth the cost? Fees can range from your first box free to upwards of $75 per month or quarter.
After months of trying and researching numerous subscription beauty boxes and services, these are the ones I feel you should consider trying.
The Top Beauty Subscription Box List
Allure's monthly beauty box offers top-trending, editor-tested makeup and beauty picks with a $50-$90 value for only $15
Full and travel-size products selected by Allure experts (we test more than 50,000 products a year)
A mini-mag with tips, shortcuts, and step-by-steps
New member gift: A bonus gift valued at $15+
Free shipping
$15 month, beautybox.allure.com
---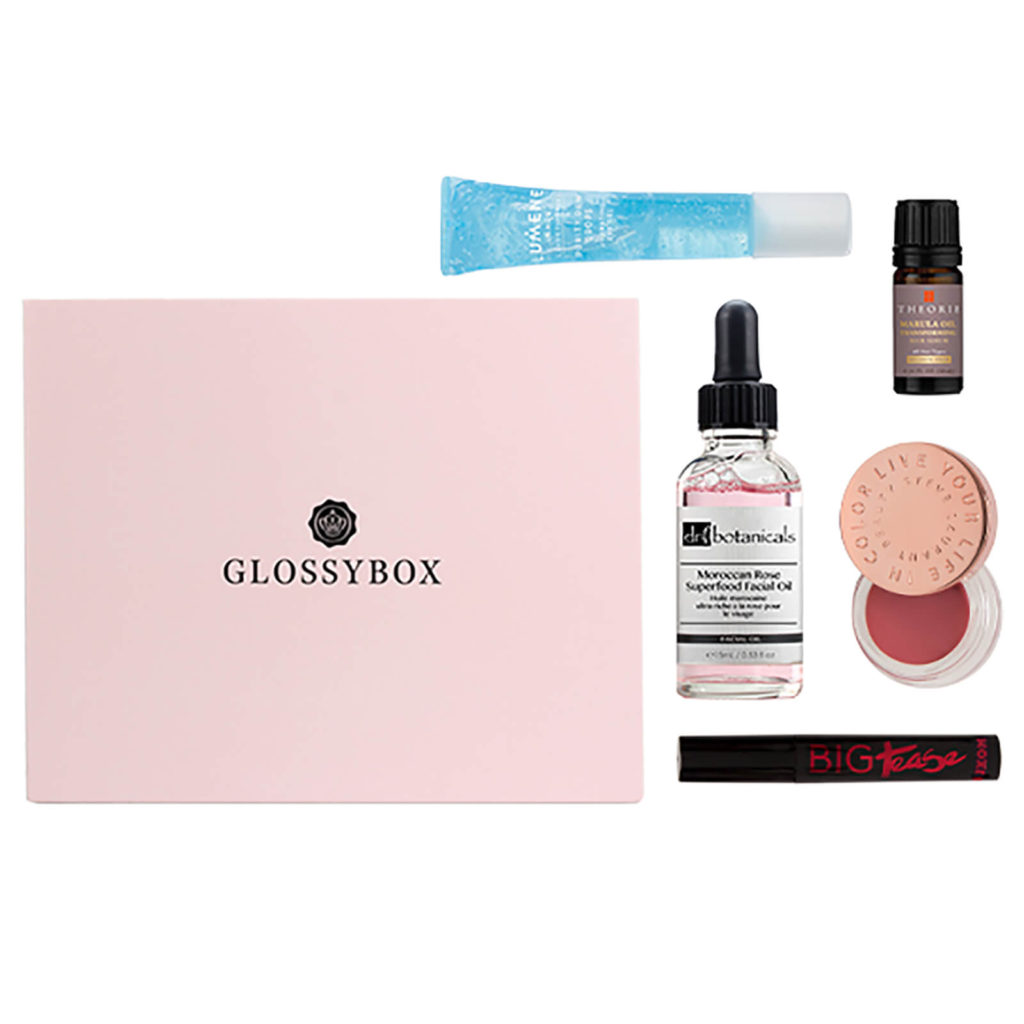 Glossybox  monthly beauty box invites you to "Experience Beauty in a Box" . There are options to sign up for a one, 3, 6, or 12 month plan, priced from $21 monthly to $210 annually for the 12 month plan.
You will receive:
5 FULL  – DELUXE SIZE PRODUCTS in each themed monthly box
NEW SKIN CARE & MAKEUP FINDS from around the world
INSIDER TIPS & TRICKS from insider industry pros
EXCLUSIVE OFFERS AND REWARDS for loyal subscribers
$21 month, glossybox.com
---
Play! By Sephora is a monthly beauty subscription services that offers you sought after products with a selection of handpicked stellar samples and tips on how to get the most out of every product.
Inside every box:
Five trial size samples (plus a beauty bonus), all in a collectable bag
A Play Pass you can bring to the store and redeem for 50 bonus Beauty insider points, plus a free one-on-on tutorial that's all about you.
Invitations to PLAY DATE, subscriber only events for you and a friend to come to the store to play with products that complement the ones you received in your box.
Video how-to-tips to help you BEAUTY UP YOUR GAME teaching you how to use the products you get in a fun and cool ways.
$10 month, Sephora.com
---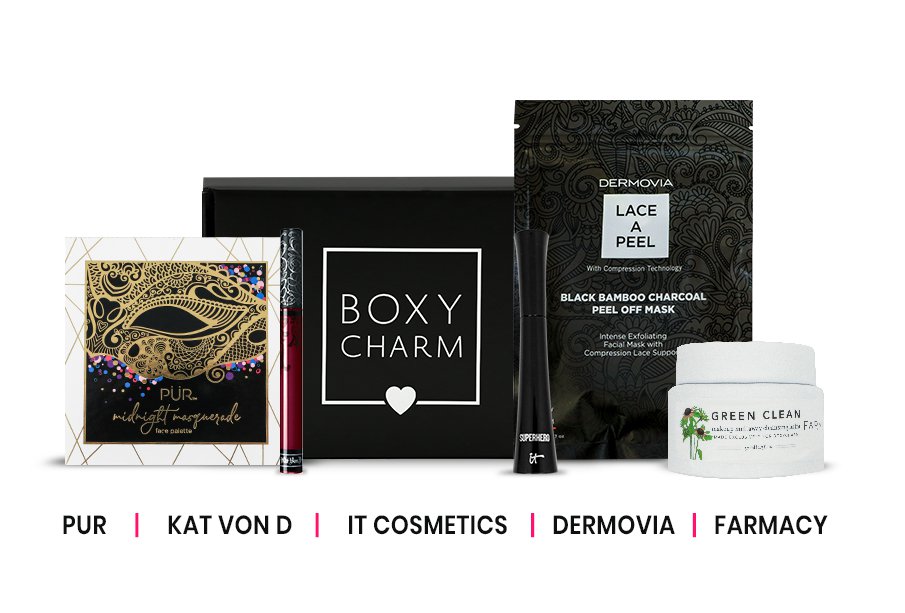 Boxycharm helps you build your makeup collection for only $21 a month. They offer one, 3, 6 and 12 month subscription options. Each month you'll receive 4-5 full size products worth over $100 with free shipping.
Here is what's in every box:
Receive 4 to 5 full-size beauty items ranging from makeup to skin care, to beauty tools and color cosmetics with a minimum total value of $100
Learn new and creative ways to use your products received in your Boxycharm by watching tutorials and looks shared by the Charmer community on social media.
Enjoy exclusive members-only offers from the best brands in beauty. You will Be Charmed with the chance to win free products through Boxy-giveaways and receive reward points redeemable in the exclusive Charm shop!
$21 month, boxycharm.com
---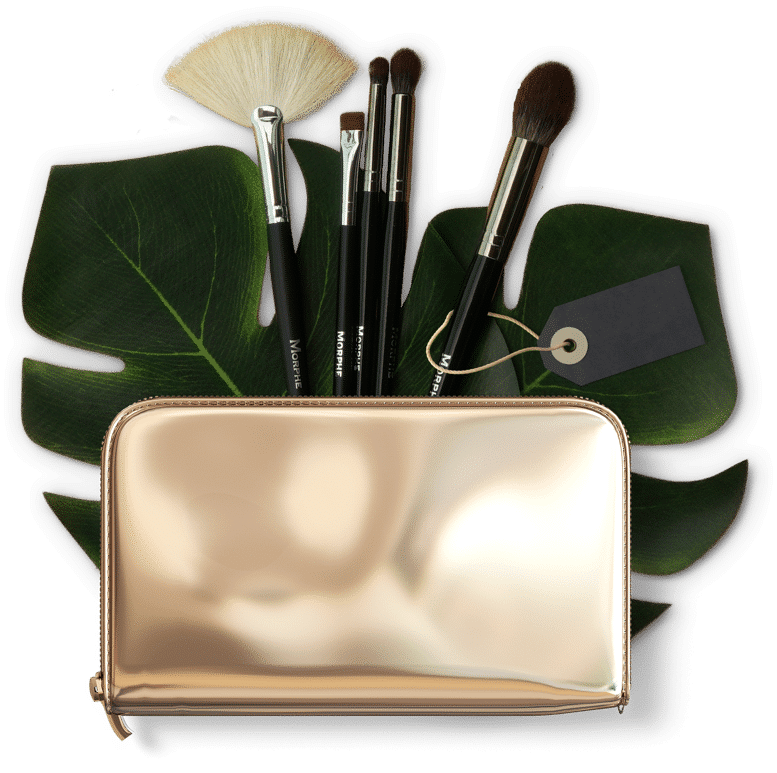 Morpheme, LiveGlam's Brush Club helps you build your brush kit quick and easy. You'll receive 3-8 makeup brushes monthly for $19.99. There are also a 6 month and 12 month plan options, allowing you to not only save more but you also receive more brushes.
Here are the details:
Every month you'll get anywhere from 3-8 new Morphe brushes. Soon you'll be rolling in new Powder, Liner, Contour, Eyeshadow, & Foundation Brushes + more! Never the same brush twice.
Get your brush fix your way. We'll ship your new brushes to you anywhere in the world. Plus, you can cancel, skip, or even trade your next set in for something new! It's that simple.
$19.99 month, liveglam.com
---
Every month Target launches a new box themed with beauty or grooming samples. The cost is $7 and the shipping is free.
Target Beauty Boxes are offered on a monthly basis. They don't have a subscription program with automatic shipping. Be sure to sign up to receive a notification when the box is available because they do sell out quickly.
In every box you will receive:
5-7 samples of beauty and/or grooming samples for you to try
A coupon offering $3.00 off a beauty purchase of $15 or more
An information card giving you product details about the samples in your box
$7 month, target.com
---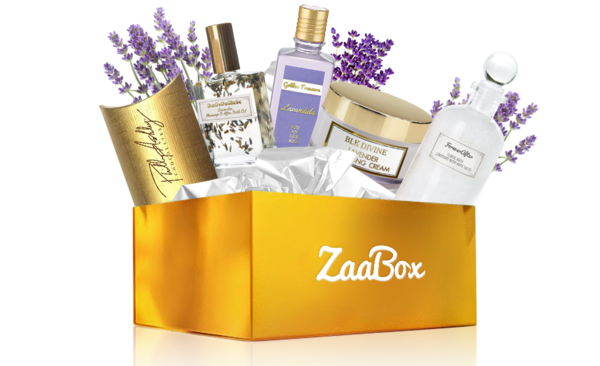 ZaaBox celebrates Black women. The subscription program offers "The Black Spa Box" that delivers 5 of the finest all-natural full sized products delivered directly to your door every month.
Every month you will:
Get Rejuvinated indulging in ZaaBox exclusive luxurious spa, bath and body products from stellar boutique artisans around the world.
Get Pampered with 100% natural products
$34.95 month, zaabox.com
---
Julep Beauty Box offers On Trend, Effortless, Good For You products in a customized selection of K-beauty skin care, makeup and nail care delivered to you. Subscription offers $24.99 monthly or 3 months prepaid for 19.99 month. Note: with the pre-pay option you receive a bonus box free.
Every month as a Julep Maven you will receive:
Over $40 worth of new beauty, skincare and/or limited-run nail colors.
Each Maven Luxe Box includes over $60 worth of beauty products
$24.99 month, julep.com
---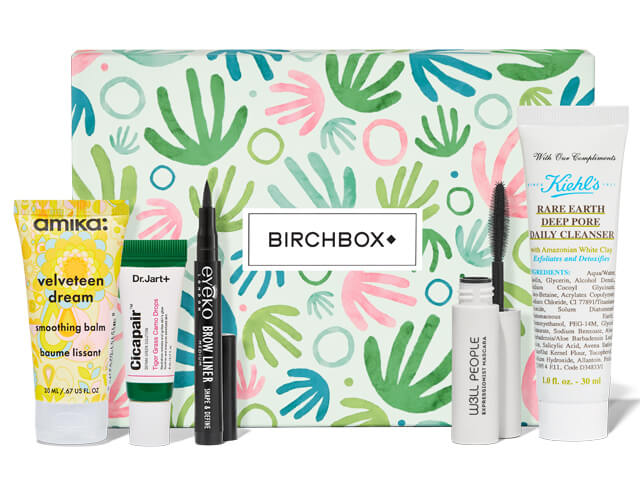 Birchbox offers products that make you feel your best. You'll discover Unexpected Finds, New Favorites and Unique Matches every month for $10.00. Birchbox offers 1, 3, 6, and 12 month subscription options with an extra box free when you select the 3 month option.
Every month you will receive:
A personalized mix of hair, makeup, skincare and fragrance samples.
5 monthly beauty treats. A mix of prestige and niche brands
$10 month, Birchbox.com
---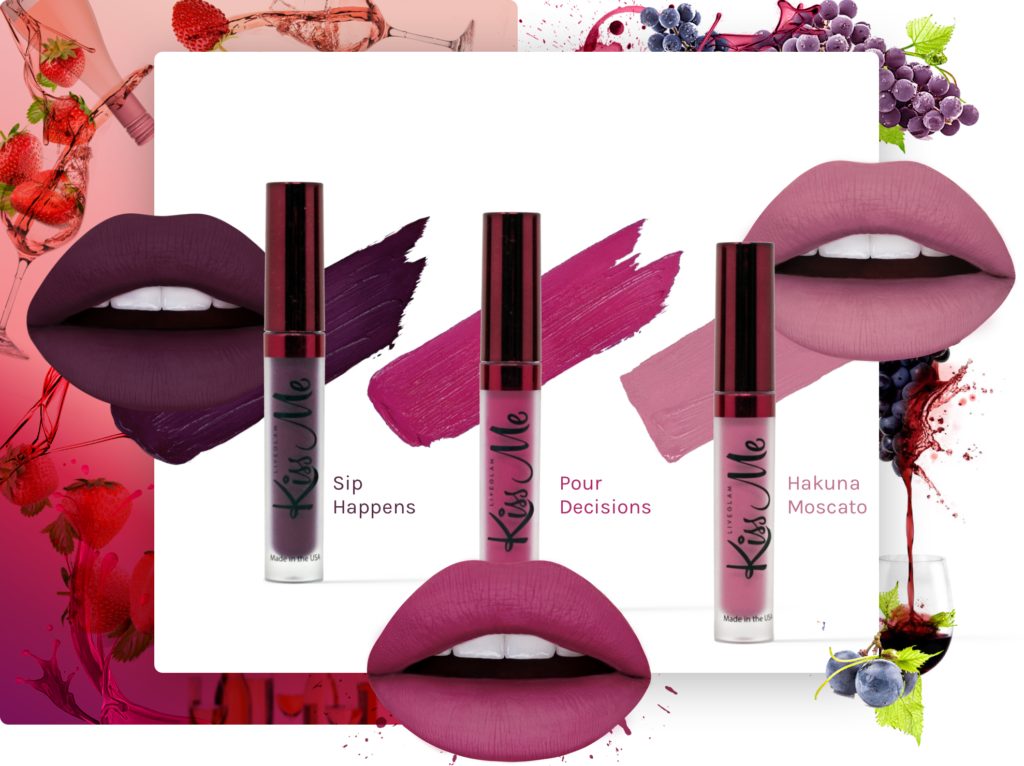 LiveGlam  KissMe is a must for lipstick lovers. You'll receive 3 new long-lasting lippies every month for $19.99 a month. There are optional plans for 6 and 12 months.
Every month you will receive:
3 long-wear lippies to discover a color you never knew you'd love.
Reward points to use on free makeup and goodies
$19.99 month, liveglam.com
---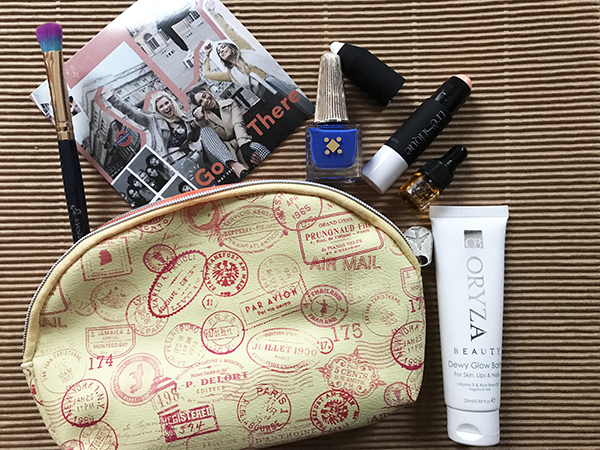 Ipsy's glam bag is filled with the tools to help you form your own definition of beauty every month for $10.
Every month you will receive:
5 products personalized for you
Articles, videos and more to show you Ipster insider tips on using the great new items in your Ipsy bag.
$10 month, ipsy.com
---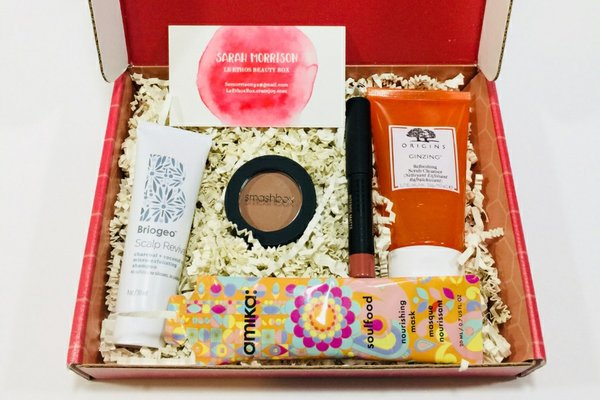 Ethos Beauty Box is subscription make-up and hair care box created specifically for women of color. Offering 1, 3, 6 and 12 monthly subscription options.
Every month you will receive:
Five deluxe luxury hair, makeup and skin care samples from top beauty brands.
Products customized to suit your skin and hair profile designed to help you discover the best products designed for women of color.
$24.95 month, leethosbox.cratejoy.com 
---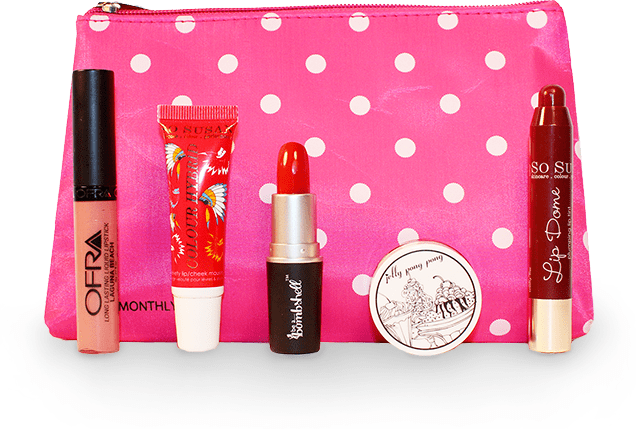 Lip Monthly delivers a monthly beauty box with everything you need for your lips. You'll discover the best Lip Glosses, Lip Sticks, Lip Balms, Lip Stains and more. $12.95 per month.
Every month you  will receive:
A unique bag to hold your cosmetics
4-5 deluxe and full size lip products
Exclusive member offers
25% off your first bag
$12.95 month, lipmonthly.com
---
FaceTory is a fun, easy and affordable way to discover the latest Korean sheet masks designed to give your skin hydration, suppleness and brightening in less than 30 minutes. The plans: 4 masks $8.90 month, or 7 masks $19.90 month with free US shipping.
Every month you'll receive:
A box of sheet masks delivered to your doorstep.
Handpicked masks by the FaceTory team.
A total of 4-7 masks are in your box.
$8.90 month, facetory.com
---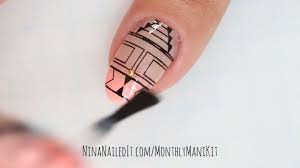 Nina Nailed It Mani Kit is a monthly subscription service with exclusive limited edition nail wraps designed by @NinaNailedIt plus hand-picked nail art extras to accent your manicure for $10 month. International shipping  is available.
In your box you will receive:
Screen-printed adhesive wraps that go on smoothly and last like real nail polish
You'll receive two sheets each with 8 wraps for a total of 16 wraps
A mini nail file
An orange stick
hand-picked nail art extras
$10 month, goscratch.it
---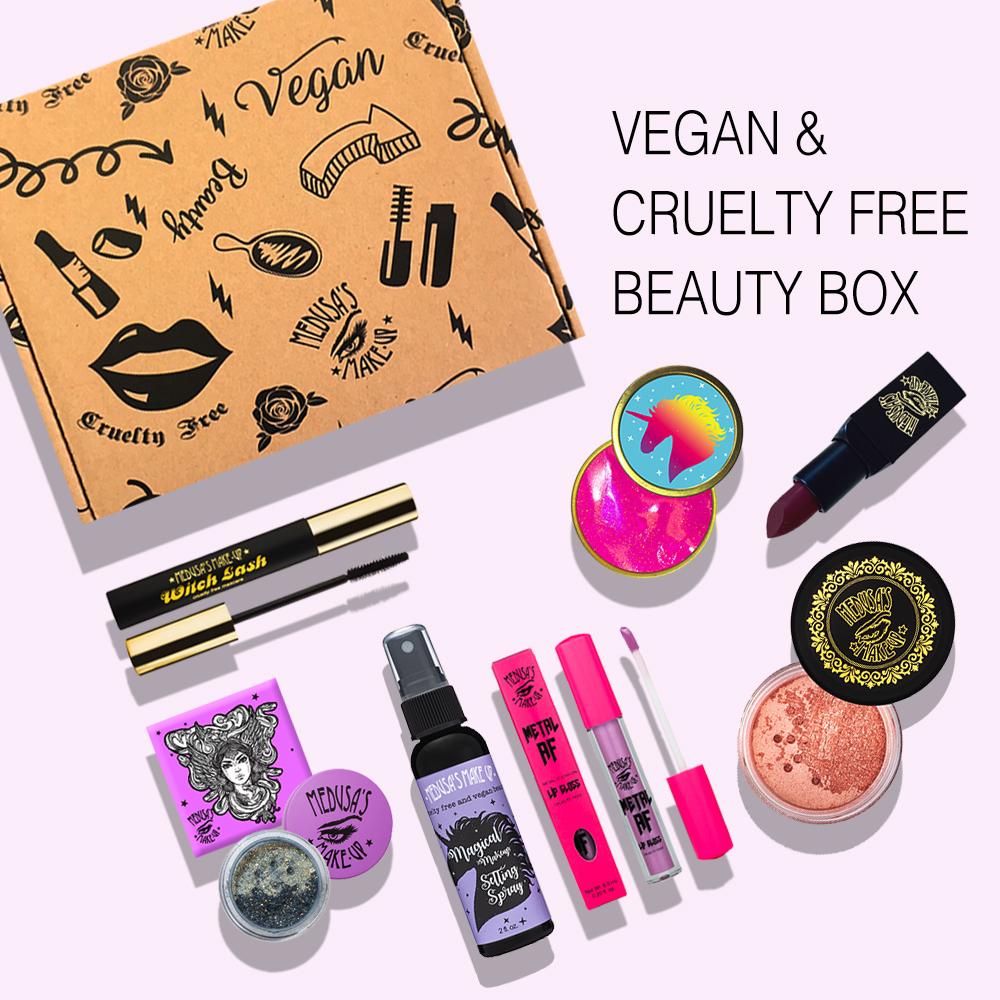 Medusa's Makeup is a cruelty-free vegan beauty line that is hi-tech with fun and innovative style. Medusa's Beauty Box is the #1 Cruelty Free and Vegan Beauty Box. Every month you receive 4 full size vegan products. They offer a variety of subscription programs for 1 month, 6 months and 12 month options and shipping from US, Canada and International.
Every month you will receive:
4 full size vegan products
The products are Peta certified
Cruelty free makeup and makeup tools
$17.95 month(USA), medusas makeup.com
---
Scentbird is about the fun and magic of fragrance.Get access to a 30-day supply of hundreds of top designer fragrances, including Dolce & Gabbana and DKNY delivered to your door for just $14.95/month. The subscription program offers selections for men and women
Every month you will receive:
A month supply of the fragrance of your choice
Your selection from 450 available designer and niche fragrances
A generous travel size spray
Free refillable case with your first order
$14.95 month, scentbird.com
---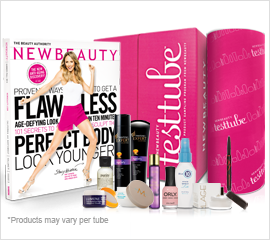 Test Tube by New Beauty subscription boxes offer real beauty solutions. Valued at over $125, these Tubes are delivered to you 6 times a year for $29.95.
In every box you will receive:
8 or more full-size and deluxe must have products.
Products dedicated to solving your biggest makeup, skin care, hair and body concerns
One  year subscription to New Beauty Magazine with annual membership
$29.95 testube.newbeauty.com
---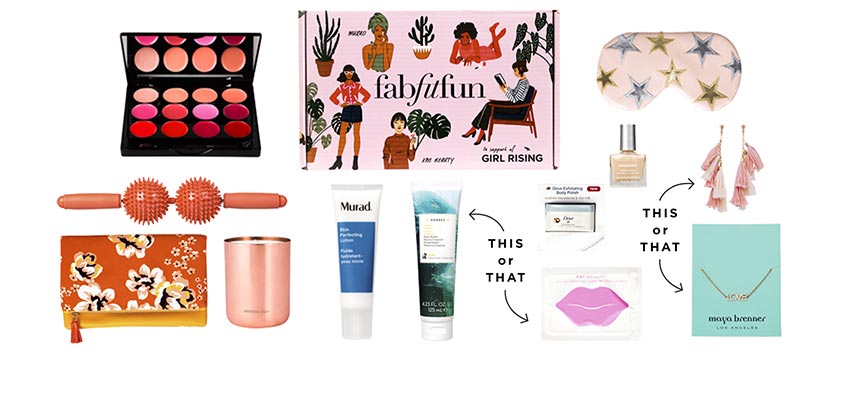 FabFitFun is a season beauty and lifestyle subscription box delivering you full sized premium products 4x a year for $49.99 each box
Here is what you'll receive:
8-10 full-sized premium products valued over $200
The option to choose products and add-on's or be surprised and love it anyway
The best in beauty, fitness, wellness and more for you to  indulge
Access to FabFitFunTV so you can workout, shop and explore the FabFitFun community
$49.99, fabfitfun.com
---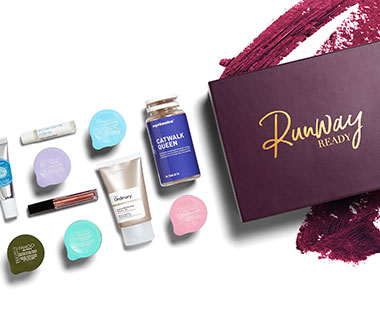 Look Fantastic is a monthly beauty box delivering cult classics, new brands and more with free delivery for $19 month. They also offer 3, 6 and 12 month subscription options.
Every month you'll receive:
 A box packed full of beauty products with a value that exceeds $50
A mix of cult classics and new, emerging brands
Exclusive competitions to win in the Beauty Box Magazine
A monthly Beauty Box twitter chat with your chance to ask for expert advice from brands
The chance to try exclusive brands before they launch on Lookfantastic
An ELLE Magazine with every month's Beauty Box (for free!)
A way to try before you buy, an exclusive experience for expensive premium brands. Plus with our Lookfantastic site, you can buy your favourite full sizes!
Exclusive launches of limited edition boxes before anyone else
Sneak peek into the Lookfantastic Advent Calendar
The chance to buy specific products/boxes available only to Beauty Box subscribers.
$19 month, us.lookfantastic.com
---
Kira Kira Crate is a monthly care kit of Japanese beauty products with free international shipping for $29 per month.
Each month you will receive:
A new experience with products tailored to transform your skin, hair and body.
5-6 beauty items from Japan
A magazine with translations and new routines
$29 month, japancrate.com
---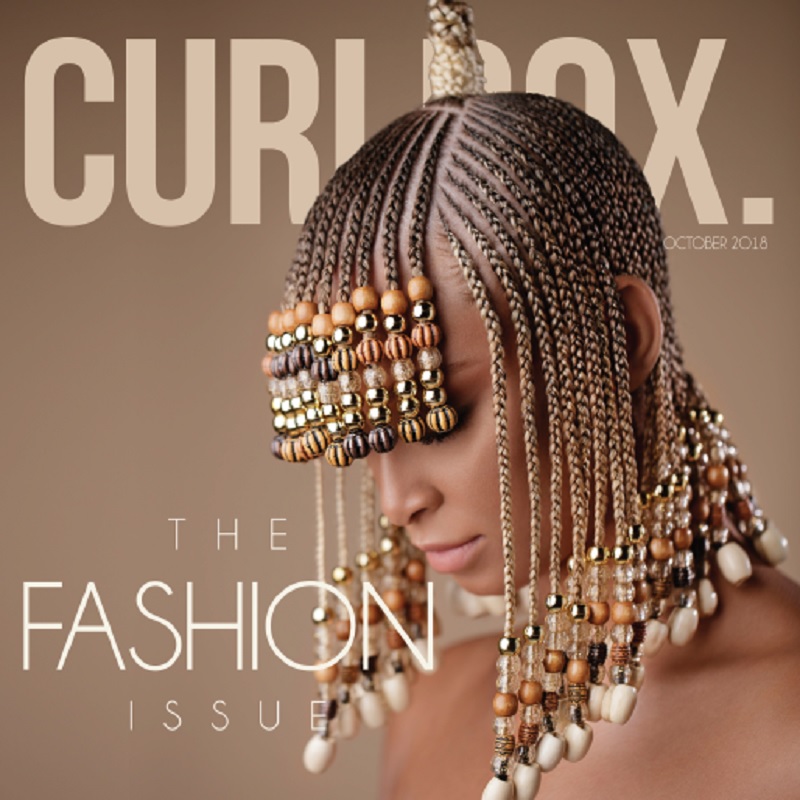 CurlBox delivers handpicked products for curly hair in an  affordable, exclusive and an effortless way to explore new hair products for $20 a month. (Note…There is a waitlist, so be sure to add your name to be informed when the list opens.)
Every month you will receive:
Outstanding products from established and emerging brands
$20 month, curlbox.com
---

Honest Beauty Box referred to as "Beauty Bundles" delivers to your door "Clean Beauty That Works".
Every month:
Save up to 50% on any three makeup, hair and skin care must-have's
Free shipping and returns
$50 per shipment
$50 month, honestbeauty.com
---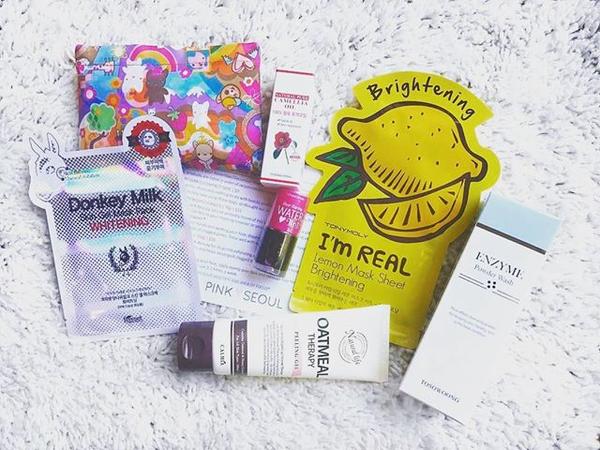 Pink Seoul subscription gives you access to thoughtfully selected and curated K-Beauty products delivered bi-monthly.
You will receive:
Customized skin-care
Full-sized products
Curated for you with at least 4 full-sized products and accessory item
Delivered every 2 months
$39.95 for 2 months, pinkseoul.com
---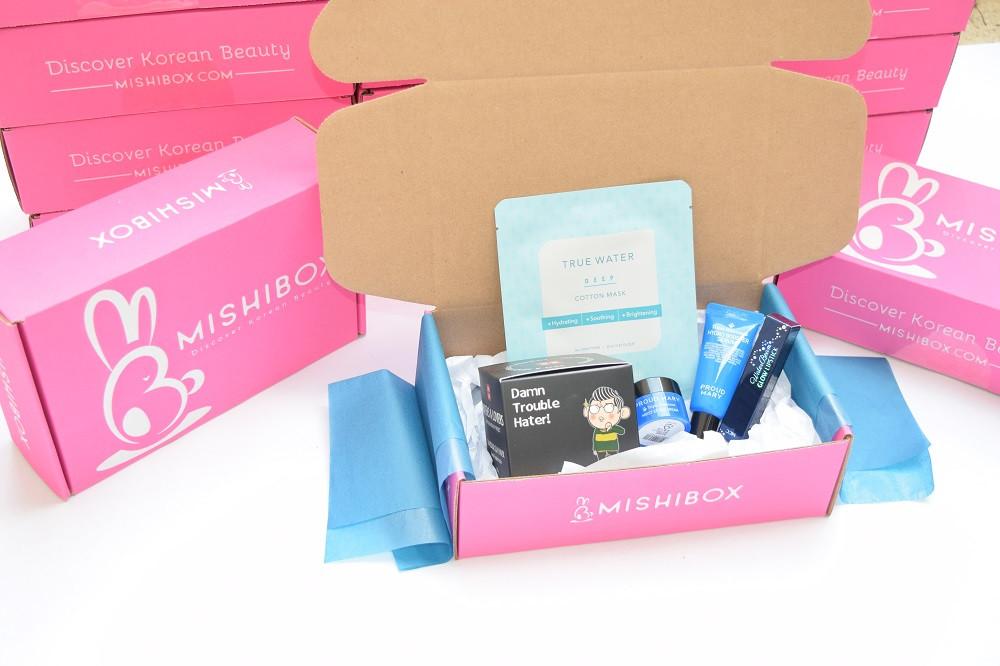 The MISHIBOX K-Beauty Subscription Box delivers a combination of 5-6 deluxe-sized samples and full-sized Korean beauty products to you every month to help you discover your favorite Korean beauty products. The offer 1, 3, 6 and 12 month subscription options.
Every month you will receive:
5-6 deluxe-sized and full-sized Korean beauty products from a wide range of Korean brands.
Exclusive access to subscriber-only Add-On products that ship for free with your monthly box.
Reward points for every box! Earn 1 point for every Dollar spent.
All product descriptions, instructions, & ingredients translated into English.
A quick and friendly customer service team that is always ready and happy to help!
19.95 month, mishibox.com
---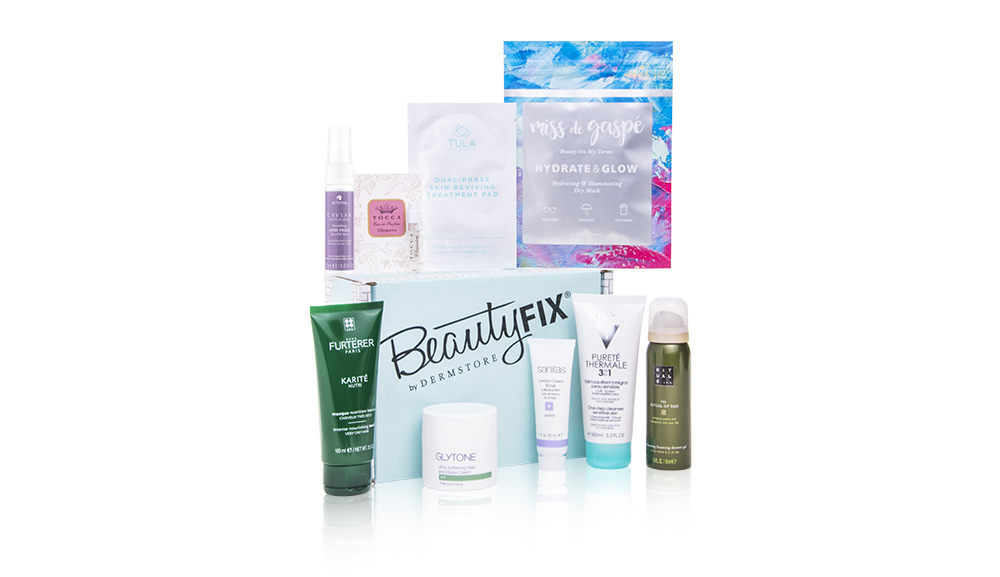 BeautyFIX® features a curated collection of innovative and professional makeup, skin and hair care products handpicked by beauty experts and delivered right to your door.
What you will receive:
$100+ value
Exclusive subscriber savings
Full & Deluxe Travel Size Products
Products Curated by Beauty Experts
6+ products total
$24.95 month, dermstore.com
---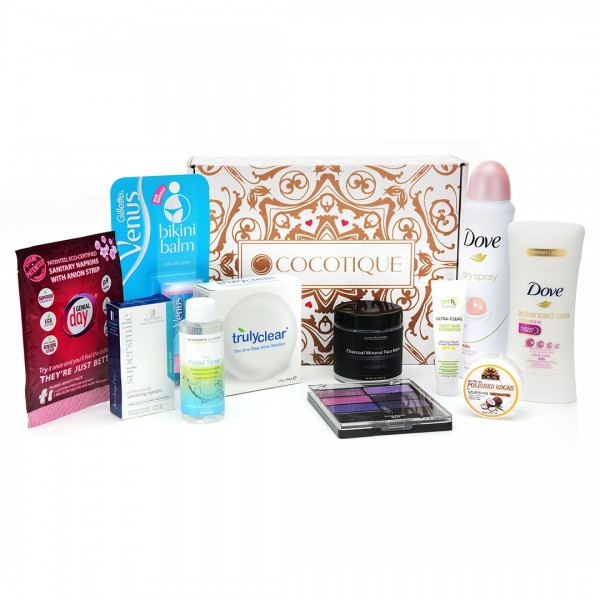 Cocotique curates the best in beauty and lifestyle products for women of color, reminding you to #LoveYourself #EmbraceYourMagic, and to recognize the importance of self-care.
Every month you will receive:
5-8 Full and deluxe size products
A variety of beauty and lifestyle products from hair care to makeup and more
Curated especially for you
Bonus offer: 12 issues of Essence Magazine included with every subscription
$25 month, cocotique.com
---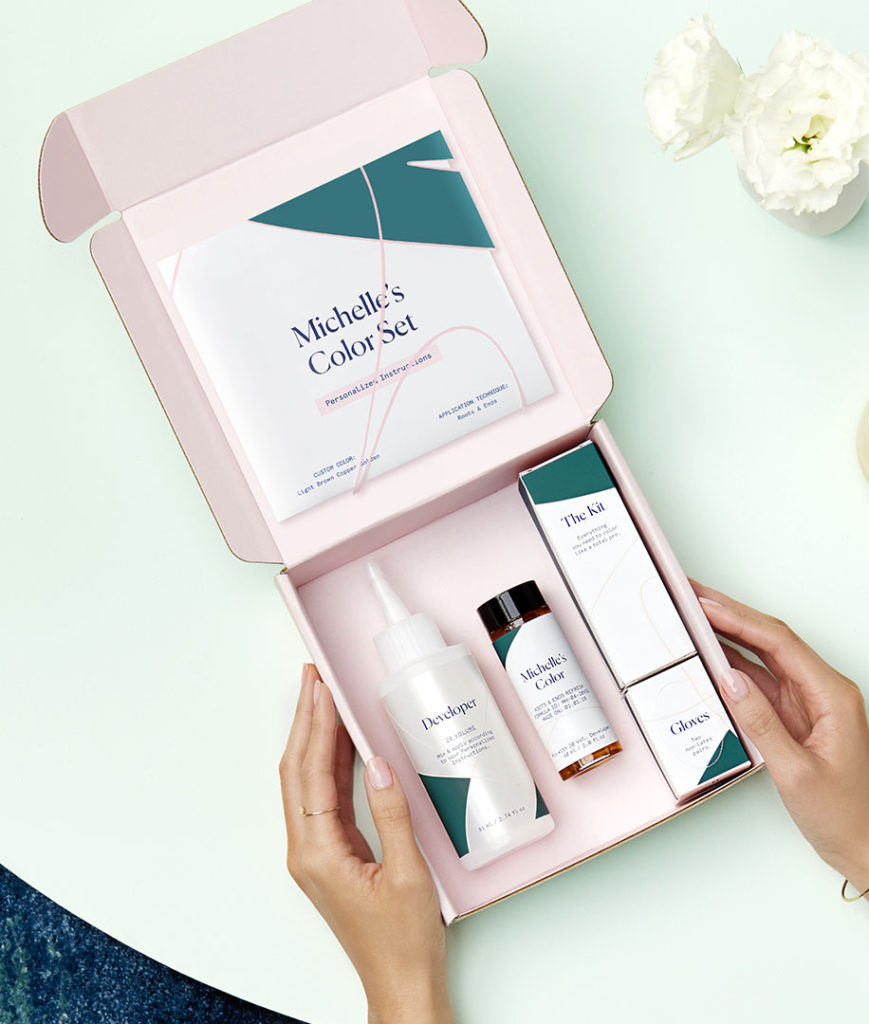 eSalon Custom Color Box creates and delivers custom hair color to you. You create a profile and their experts craft your color.
Your eSalon experience includes:
Personalized creation of hair color just for you
Your hair color bottle arrives with your name on the label and the date it was made
Step by step instructions so you can color at home
$10 for your first order, esalon.com
---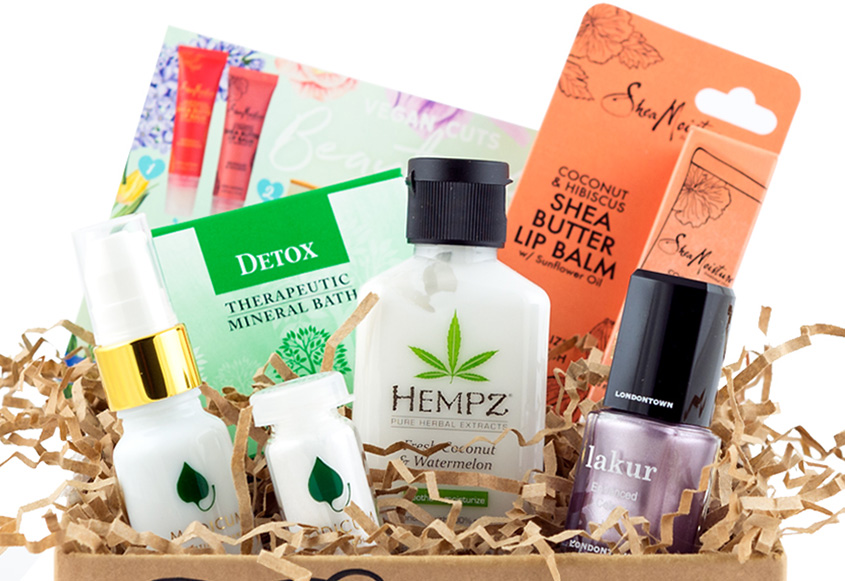 Vegan Cuts Beauty Box offers the easiest way to discover cruelty-free beauty products.
Each month you will receive:
5 or more new products to try
Cosmetics to luxurious skin care
Typical boxes contain retail value of $40-$60
Mostly full-size products + deluxe size samples
$18.50 box, vegancuts.com
---

Allure Beauty Swag Box offers the biggest value in beauty with a value of over $250.
Allure Beauty Swag Box is separate from the Allure Beauty Box. This box contains cosmetics and beauty products valued at over $250. There is a limited quantity and only available while supplies last.
Your Swag Box includes:
19+ products, contents may vary by box (not returns or exchanges).
Skin care
Makeup
Hair Care
Tools
Full size and deluxe sizes
$49.99 + $9.99 shipping per  box, subscribe.allure.com
---
Sisley Paris Beauty Subscription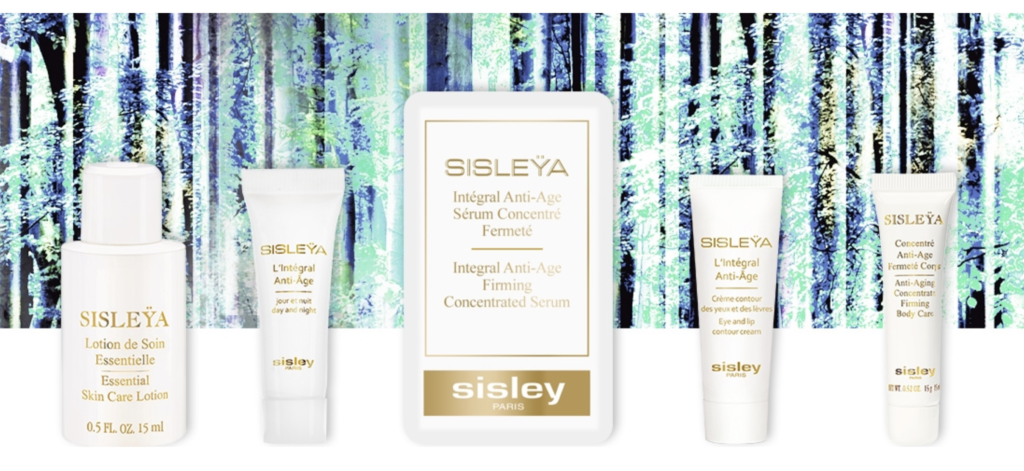 Sisley Paris Beauty Subscription delivers 5 samples to your door every month. In the area of skincare for the face and body, Sisley's expertise is well known. It's complete line of products meets the needs of various skin types and issues:makeup removal, hydration, anti-aging, sun protection and hair care.
Each month you will receive:
The chance to try Sisley Paris products
5 deluxe samples that deliver results to help you improve your skin
$60 month for  6 months or  $100  month for 12 months, sisley-paris.com
---
Beauteque Monthly is the subscription for K-Beauty addicts.
Every month you will receive:
The latest in trending beauty technology
A variety of six full-sized Asian beauty products including makeup, skin care and body care
$22 month, beautequemonthly.com 
---
Macy's Beauty Box delivers your monthly subscription to gorgeous treats.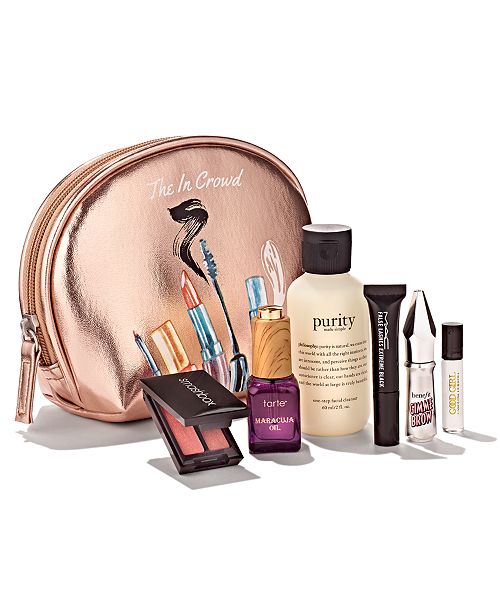 Every month you will be treated to:
A chic pouch
5 deluxe samples plus 1 bonus treats from the best brands
A coupon for $5 off your next purchase
All for $15 a month
$15 month, macys.com
---
Petit Vour Beauty Box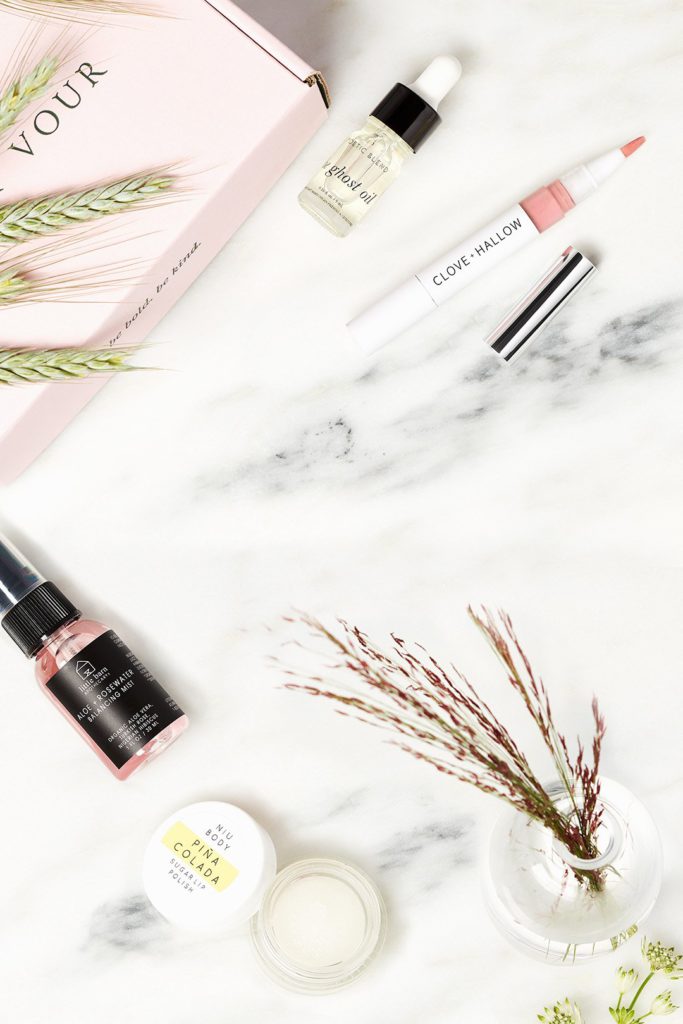 Petit Vour Beauty Box is a luxury-curated, cruelty-free beauty box delivered to your door monthly.
Every month you will receive:
4 products (value up to $60) of non-toxic, plant-based, cruelty-free beauty, curated according to your profile.
Get back $4 in PV points for rating your box
A mix of skin care, makeup and hair care products
$18 month, petitvour.com
---
Terra Bella Box is a small-batch, natural beauty products, handmade by artisans, delivered to you monthly. They offer two box choices, Terra Bella or The Makeup Edit which features cruelty free makeup. They offer Month-to month payment for $32.95 or 3 month prepay for $98.85
Here is what you receive:
3-4 natural, artisan bath and beauty products
Free US shipping ($12.50 in Canada)
$32.95 month, cratejoy.com
---
ONYXBOX features full-size and deluxe size products for a total value over $60, every month delivering the best black beauty hair and makeup.
Every month you will receive:
60+ worth of free products
Hair and makeup curated for you
A mix of full-size and deluxe size products
$25 month, shop.wearonyx.com
---
Laurel & Reed delivers all natural, non-toxic and cruelty free products that work. It's a monthly subscription service of carefully curated beauty products. With 1, 3 or 6 month subscription options.
Every month you will receive:
A mix of 4-6 full size products
box value of $100+
non-toxic, cruelty free, natural  products
$49.95 month, laurelandreed.com
---
Bath Benefit Box Subscription delivers products that encourage you to plan a little "me time". Take a warm bath or shower to rejuvinate and take better care of yourself. They offer 3 and 6 month subscriptions and two box options, benefit and premier.
Your box will include:
Products perfect for the bath or shower sourced from local artisans
Products made from simple and natural ingredients
4-7 handmade items (Benefit Box) or 6-7 items (Premier Box)
value $50 -$75 +
$31.95 – $41.95 month, Bathbenifitbox.com
---
Love Goodly delivers toxic-free, cruelty-free, full sized deluxe products every other month.
You will receive:
A box with a mix of full size products focused on non-toxic beauty and skin care, eco-style home accessories, healthy snacks and wellness products.
Cruelty-free favorites from socially conscious brands
$80+ value in total products
$34.95 every other month, lovegoodly.com
---
Walmart Beauty Box is filled with samples and tips on beauty, makeup and skin care products sold at Walmart. Boxes are available 4 times per year.
Each Walmart Beauty Box includes:
An assortment of new beauty products and tips
$5 a box, beautybox.walmart.com
---
Deck of Scarlet delivers one palette every two months with everything you need to create multiple makeup looks.
Your Deck of Scarlet Box includes:
A palette made in collaboration with a popular YouTuber
Your palette is unique and limited edition
Cruelty-Free products
$29.95 per box, deckofscarlet.com
---
Scent Trunk is a subscription where you design your fragrance from a palette of scent selections, then personalize it before it's delivered to your doorstep.
What you receive:
A palette of scents you will test in order to design your scent
Use the scent test to personalize your fragrance
Receive a 30 Day supply of your uniquely  created scent.
$16.00 month, scenttrunk.com
---
bioClarity is a plant-based skincare for clear, glowing skin. Your subscription box is packed with garden-given goodness, without toxins, parabens 0r synthetics.
You will receive:
A skincare regime with good for you nutrients
Healthier skin
Your first shipment is a 30 day supply, subsequent shipments are 60 day supplies, received every other month.
$50 value for $29.95
$29.95 month, bioclarity.com
---
Pearlesque  Box
$39.95 month, cratejoy.com
---
Goodbeing
$24.95 month, joingoodbeing.com
---
RosePost Box
$51 quarter, rosepostbox.com
---
The Detox Box
$49.95 a box, thedetoxmarket.com
---
Curl Mix
$33 box, curlmix.com
---
Boxwalla Beauty Box
$49.95 every other month, theboxwalla.com